Rise of the Reaper is a YA fantasy novel and the first book in the Broken Lands series. It is a story about discovery and about a journey, and how these things alter people and change lives. What if what we're looking for means finding things best left buried? What if in trying to alter fate, we seal it forever?
Read excerpt         Where to purchase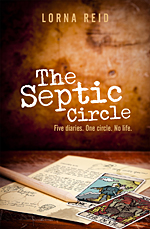 The Septic Circle is a humorous diary-style book, with the story constructed from the diaries of five members of a 'not-very-psychic' circle, with each person's twist helping to build up a humorous (or poignant) picture of events.
Read excerpt         Where to purchase